Post 1. My adventure in Fast Magnetic Resonance Thermometry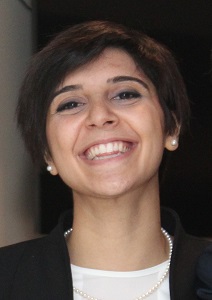 Post 1. My adventure in Fast Magnetic Resonance Thermometry
Hello! My name is Martina, and I am really passionate about science! During my PhD in Politecnico di Milano I am working on an ERC-funded project whose aim is to optimize the laser ablation treatment of cancer. Specifically, during my PhD I am investigating non-invasive techniques to monitor thermal outcomes produced during the therapy.
In this blog I want to share the challenging world of Thermometry, my research in the field and with whom I am living this fascinating experience.
Recently I spent a period at IHU Liryc (Bordeaux) exploring Magnetic Resonance Imaging (MRI) in the Thermometry scenario thus discovering its abilities in reconstructing temperature maps during thermal therapies.  In my study there, together with the Imaging team, we evaluated the accuracy of fast MRTI on a synthetic phantom, using dense ultra-short Fiber Bragg Grating (FBG) array temperature sensors, as a reference. A lot of people from different countries were involved in the work: Italy, France, and Russia. Thanks to all of them for their help in my research!
Moreover, I want to say thanks to MDPI Journal for a big honor to publish our work in the Sensors MDPI Journal!
Here you can find the link to the work:  
Post 2. Exploring the innovation: Hyperspectral Imaging as tool for assessing tissue thermal state change
Recently, we carried out a study at the Institute of Image-Guided Surgery in Strasbourg to investigate the hyperspectral imaging technique to assess the laser-induced thermal state change. You can find the link to our two publications on the topic here:
https://www.mdpi.com/1424-8220/21/2/643
https://www.mdpi.com/1424-8220/21/20/6934        
Thanks to all the people contributing to the work!
Post 3. Validation and Assessment of a Posture Measurement System with Magneto-Inertial Measurement Units
Our work on posture monitoring with inertial measurement units, in collaboration with Università Campus Bio-Medico di Roma, aims at estimating physiological parameters such as kyphosis, lordosis and range of movement. Here is the link to the publication:
https://www.mdpi.com/1424-8220/21/19/6610
Thanks to all the contributors!